thoughtful gifting made Easy
Meet the curated gift box. Your new best friend. 
We search for one-of-a-kind, purposeful products for you - many of which are Canadian! We then assemble them in a beautiful gift box, tied up with a satin ribbon and ready to give to your recipient. Card? Don't worry - we have you covered! Just let us know what you want it to say and we'll write it for you!
Want to customize? We'd love to help! Email us at info@giftii.ca and we'll create the perfect box!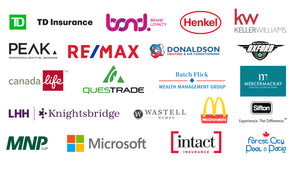 Companies we have worked with
We have been fortunate to work with so many great companies and would love to add your company to this list! Visit our Corporate Gifting page to reach out with your needs and find out how we can wow your clients or employees!
CLICK HERE